What foods are good for your teeth?
With a little imagination, willpower and ingenuity, you can enjoy every bite, give your body the essential nutrients it needs with foods that are good for your teeth, and maintain your oral health between dental cleanings.
These suggestions work for the entire family, from little ones to teens and adults.
Breads & Whole Grains
Breads and whole grains may already be a staple of your diet, and they're easy to pack in a lunch to go, whether you make a sandwich on whole wheat bread or perhaps a bagel.
To switch it up, try whole grain tortillas, pasta, or brown rice, with crackers on the side. Whole grains are a fantastic source of iron and vitamin B to keep your gums healthy.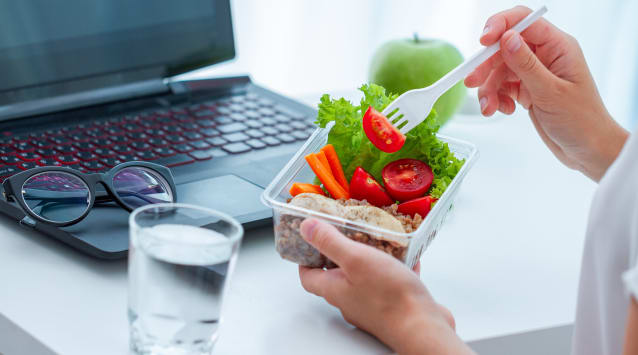 Dairy
Calcium may be your closest food ally in maintaining strong teeth and is one of the most important nutrients for growing adult teeth, as it strengthens enamel. Dairy products such as skim milk and cheese are delicious additions to healthy meals, easily integrated into almost any lunch, and packed with calcium.
Instead of cookies for a snack, how about a low-fat yogurt?
Non-dairy eaters, including those who are lactose intolerant or who need to limit dairy can get their fill of calcium from leafy green veggies or certain types of nuts. For drinks, think soy milk or orange juice with added calcium.
Nuts & Seeds
Look to nuts and seeds for healthy sources of protein. If you're craving a crunchy afternoon snack, try almonds, which contain vitamin E, magnesium, healthy fats, and fibre. Nuts and seeds are also packed with folic acid, which preserves gum tissue. For a throwback, try peanut butter on your sandwich.
Fruits & Vegetables
Fresh fruits are your friend when it comes to preserving oral health. Bananas, apples, and oranges are all high-fibre snacks that can be tossed into any lunch bag. Fibre is important to producing saliva, which is a natural defense against tooth decay.
Other ideas include veggies with high water content to wash away food particles and keep you hydrated, including celery, lettuce, carrots, and broccoli. Cut up some cucumber for a refreshing side to your sandwich.
Water
It's easy to replace that pop or juice with a refreshing glass of water at lunch. It pays off with reduced risk of tooth decay from cutting your sugar intake, better hydration, and better saliva production.
What to Avoid: Sugary Snacks
Midday is often a prime time for caffeine and chocolate cravings. However, chocolate, candy, and pop are a no-no unless you can brush your teeth soon after. These stick to your teeth, cause plaque and tooth decay, and are unhealthy. The more you can cut back, the better.
Want to learn more about how to stock your diet with teeth-friendly foods or need to book an appointment? Contact our London dentists today.